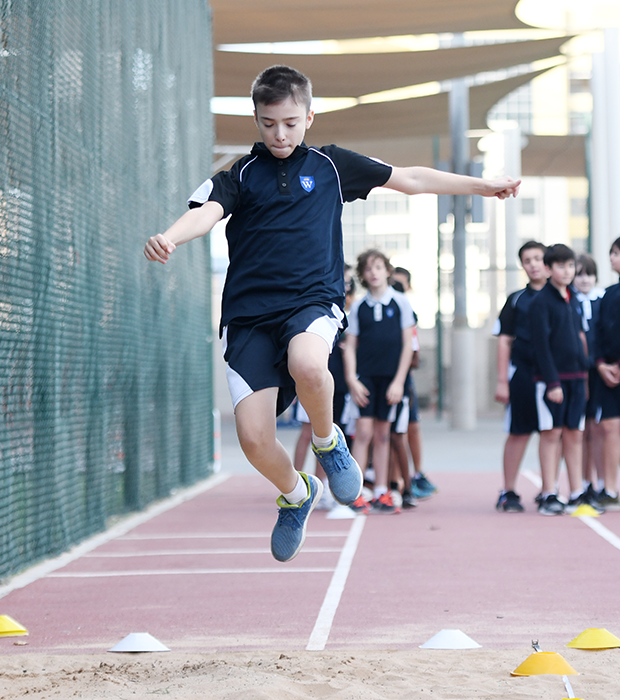 School Facilities
Our New Facilities 
GEMS Wellington International School has been outfitted with the very pinnacle of educational and extra curricular facilities.
We welcome you to attend our site to view our wonderful facilities. Please contact [email protected] or call +971 4 307 3000 to book a tour.
As students, staff and guests enter the reception area of the school they are greeted by the warm and welcoming environment we pride ourselves upon. The plasma screens along with our displays throughout the school are used to showcase and celebrate student achievements. They also function to relay important information about up and coming events, both in and out of school.
Classrooms are fitted with the latest interactive whiteboards and make use of full Internet connectivity. This naturalistic environment is complimented by student art work and sculptures. The Cafe provides a variety of healthy refreshments for all in a multipurpose space that is used as a parent and student lounge promoting informal discussion groups.
GEMS Wellington International School benefits from a state of the art IT infrastructure; we have three fixed computer suites each with interactive whiteboards, projectors, industry standard software and full wireless internet connectivity. Where it is not practical to use a computer suite GWIS has a series of laptop and iPad trolleys that can be called upon to support the learning in the classroom. With these resources students are able to engage in Image/video/sound editing, game creation, green screen, POD casting and multimedia presentations, not only do these support the learning within the subject area but more importantly equips our young people with the skills they need to contribute to the digital world we live in.


Facilities include a complete Knowledge Centre Library, a Dance studio, Drama studio and Art studios (3). Also, a Television studio is onsite, a first in UAE schools. Stage productions are held in the Auditorium which has seating for 470 people. Students wishing to expand their horizons can visit our observatory for a breathtaking glimpse of the stars the entrance of which is seen in the picture. This is further developed towards GCSE Astronomy and The Duke of Edinburgh's International Award expectations into the desert star gazing and night.
The Cafe provides refreshments not only for students, but also for teachers and parents allowing them to meet and have discussions promoting informal discussion groups
Sporting facilities at GWIS include a floodlit Astro turf, Health and Fitness studio, a large multi-purpose sports hall and a Primary Sports Hall, cricket nets, tennis, basketball, netball and volleyball courts, a 25m indoor swimming pool, outdoor pool, and a play area for Foundation Stage and Year 1 children. The dance studio, with two fully mirrored walls, also doubles as a gymnasium for floor work.
As can be seen, GEMS Wellington International School is able to cater to the unique needs of each of our children. Whilst high academic standards are essential for any school our motto of 'Success for All' means that all students get a chance to experience success in Sport and Performing Arts.
Science & Technology
State-of-the-art science and technology resources and facilities
Science and technology are advancing at a rapid pace, meaning that it is more crucial than ever before that our students have access to up-to-date equipment and learning tools.
Our pioneering, child-centred campus includes a host of state-of-the-art science and technology resources and facilities to ensure that our students can fully embrace 21st century learning and prepare themselves for their future roles, whatever they may be.
Our students have access to:
3 fixed computer suites
Interactive whiteboards
Projectors
Industry standard software
Full wireless connectivity
Innovation lab
Sports Facilities
Beyond the development of skills, our sporting facilities support students in their goals of leading healthy and active lifestyles.
Allowing our students to explore their talents, develop their skills and enhance their abilities, whilst enjoying an active, healthy lifestyle, sport and physical education play a crucial role our curriculum.
We believe that all of our students should be able to enjoy physical education and extra-curricular sports activities, regardless of their level of skill and experience. For this reason, we ensure that all activities are held within a nurturing, encouraging and inclusive environment.
Our state-of-the-art athletic facilities include:
Floodlit astro turf
Health and fitness studio
Large, multi-purpose sports hall
Primary sports hall
Cricket nets
Tennis, basketball, netball and volleyball courts
25m indoor swimming pool
Outdoor pool
Gymnasium
Play equipment areas
Theatre and dance studio